Here's a few more ideas.
1. I bought This plush robe from Pottery Barn yesterday. It was originally 89$ marked down to 49$. Anyone who loves baths will LOVE this!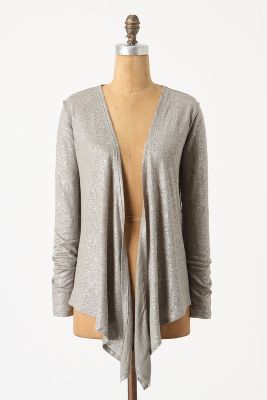 2. I kind of love this shimmery cardi from
anthropologie.
It's in the sale section at their website and it's an additional 30% off.
We love doing homemade too! Some things to think about; if you are a crocheter baby booties or a hat are a quick little project that everyone thinks are adorable! Sea salt scrubs in a mason jar. I use 2 cups of sea salt, 3/4 cup olive oil, one dropper of an essential oil. I like going to second hand store and finding cool purses, wallets, plates, mugs etc... If you don't have wrapping paper try some pretty magazine pages. It makes it eclectic and recycles-gotta love that!